Esperanza is excited to welcome Vida Pediatrics, a thriving pediatrics practice in Gage Park, to our family of clinics! Starting February 1st, Vida Pediatrics will officially become "Esperanza at Vida Pediatrics," Esperanza's fifth clinic site.
"I could not be more excited to welcome a fine group of health care professionals into the Esperanza family," said Dan Fulwiler, our president and chief executive officer. "I am particularly excited because Vida and Esperanza share the same values. We always put patients first, and quality is our watchword. I look forward to providing high quality care to even more families right here on the Southwest Side."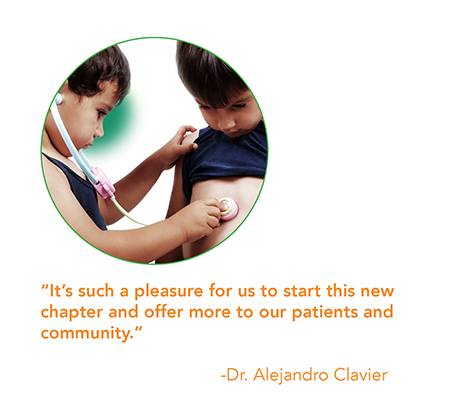 Vida Pediatrics' lead pediatrician, Alejandro Clavier, MD, MPH, is no stranger to Esperanza. He became our medical director in 2008, and left the organization in 2015 to open Vida, his independent practice, to continue providing personalized care to his patients. Dr. Clavier completed his pediatric training at the University of Illinois at Chicago, where he served as chief resident.
"Esperanza Health Centers is one of the most highly-recognized health centers in the nation for the quality of its care and is an established leader in health for the communities of Chicago's Southwest Side," said Dr. Clavier. "I also want to assure my patients that the clinic will not be affected by this change and will remain open at its same location, with the same team, providers, and commitment to personalized, quality care that they already know so well."
 
We have always had a robust pediatrics practice at Esperanza. Children ages 0-17 account for 28% of our total patient population, according to our latest data. Adding a site that specializes in pediatric care will give us the opportunity to serve more families. As for Vida's existing patients, they will gain more access to convenient pediatric visits and free health and wellness programming for children that we already offer our community.
 
"It is such a pleasure for us to start this new chapter and offer more to our patients and community," said Dr. Clavier. "This merger gives families more options for medical care at Esperanza in areas such as women's health, counseling, psychiatry, and disease prevention and management. Together, Esperanza and Vida will bring better care and more access to quality services to many families."
 
Existing patients at Vida Pediatrics can expect to receive the same medical care without any interruption. To make an appointment at Esperanza at Vida Pediatrics, patients should call (773) 584-6200 or visit www.vidapediatrics.com. We advise patients interested in establishing care to call (773) 584-6200 and follow our Facebook page for latest news and updates.