Getting your vaccine at Esperanza
Text "VAX" to (773) 207-3133 or call us at (773) 584-6200 to make an appointment. You will NOT need an official government-issued ID, but we will need something with your name and address (like a piece of mail or a bill) so we can verify your identity. We will not ask about your immigration status. The vaccine is given at no cost to you regardless of insurance, income, or immigration status.
Brighton Park Vaccination Schedule:
| | |
| --- | --- |
| Monday | 8 a.m. - 4 p.m. |
| Tuesday | 9 a.m. - 5 p.m. |
| Wednesday | 9 a.m. - 5 p.m. |
| Thursday (1st & 3rd) | 12 p.m. - 6:30 p.m. |
| Thursday (2nd, 4th, & 5th) | 8 a.m. - 4 p.m. |
| Friday | 8 a.m. - 4 p.m. |
| Saturday | 8 a.m. - 4 p.m. |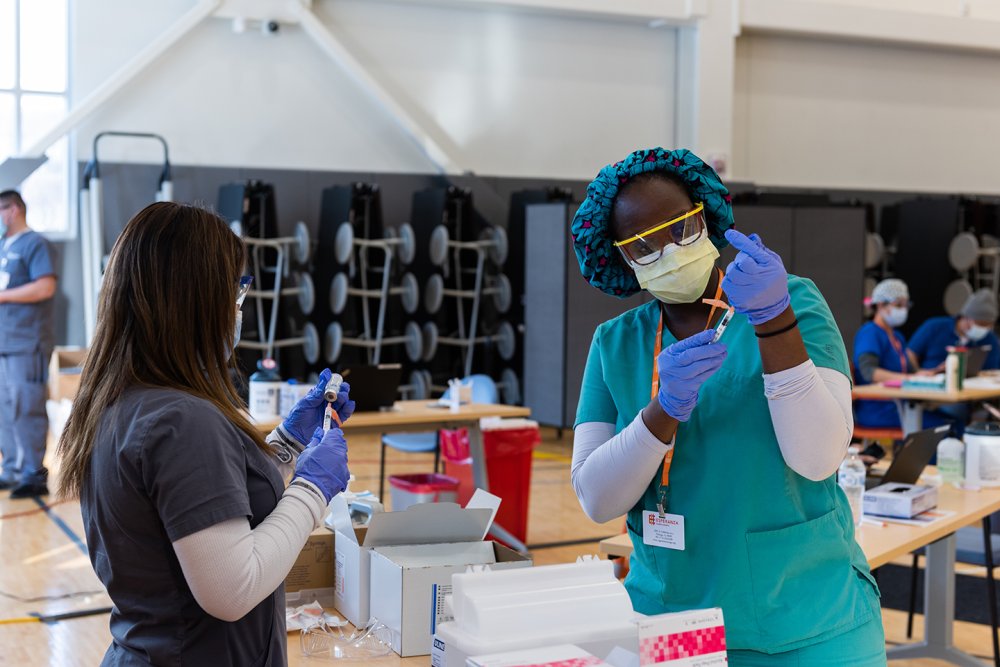 Your COVID-19 vaccine questions
What is a bivalent booster?
The bivalent  booster is an updated formulation of the COVID-19 vaccine that offers protection against the original strain of the virus, as well as the omicron BA.4 and BA.5 variants.
When am I eligible to receive a bivalent booster?
The following chart will help you figure out when you are eligible for your bivalent booster.  Please note that Esperanza is currently only administering the Pfizer-BioNTech bivalent booster.
| | | |
| --- | --- | --- |
| 6 months-4 years | 5 years - 17 years | 18 years and older |
| Receive primary series of 3 doses (the third will be a bivalent dose) | Receive primary series of 2 doses and a bivalent booster at least 2 months later | Receive primary series of 2 doses and a bivalent booster at least 2 months later |
If you are 5 years and older and are mildly or severely immunocomrpromised, you will receive a primary series of three (3) doses AND a bivalent booster at least 2 months later.  You are considered immunocompromised if any of the following apply to you:
•    You're receiving active cancer treatment for tumors or cancers of the blood,
•    You received an organ transplant and are taking immunosuppressant drugs,
•    You've received a stem cell transplant in the past 2 years or are taking immunosuppressant drugs
•    You have moderate to severe primary immunodeficiency,
•    You have advanced or untreated HIV infection, or
•    You are receiving active treatment with corticosteroids or other drugs that suppress the immune response
Are these vaccines effective?
According to data from the clinical trials, all vaccines, including the bivalent booster, are highly protective against severe COVID-19, hospitalization and death. 
 
Are these vaccines safe?
Since 2020, millions of people have received a COVID-19 vaccine across the United States without any significant safety concerns. Vaccines were well tolerated by most recipients and are considered safe. On very rare occasions, there have been cases of heart or heart lining inflammation (myocarditis or pericarditis) among recipients of the Pfizer or Moderna vaccines, usually reported a few days after receiving the second dose of the vaccine.  If you experience chest pain, shortness of breath or the sensation of fast beating or pounding heart after receiving either of these two vaccines, please seek medical attention right away.
 
Are vaccines safe for pregnant and/or lactating patients?
Both the American College of Obstetricians and Gynecologists and Society of Maternal Fetal Medicine recommend that COVID-19 vaccines be offered to pregnant, lactating, and non-lactating individuals. 
 
Are these vaccines safe for children?
The Pfizer vaccine has received Emergency Use Authorization for children ages 6 months to 11 years old and has been fully approved by the FDA for children 12 to 18. 
Will I experience side effects from the COVID-19 vaccine?
Side effects are not uncommon when you receive any vaccine and COVID-19 vaccines are no exception. While most side effects are mild and go away in about a day, severe side effects can result when you have a strong immune response to the vaccine. The most common side effects include fatigue, muscle pain, joint pain, and headache.
 
How much will the vaccine cost?
Federal health officials have said that any approved COVID-19 vaccine will be free to everyone who wants one, regardless of your insurance status. Vaccines will be covered under Medicare and Medicaid.
 
Updated December 26, 2022