Sliding Scale Fee
For patients without insurance, we offer a sliding scale fee, which is based on your income. To view the scale, please click here or scroll down. If you are unsure if you would qualify for reduced fees or would have difficulty paying them, please give us a call at 773-584-6200. We will work with you.
If you are insured, you will be notified of sliding fee scale through announcements in the waiting room, on Esperanza's website and by our billing department.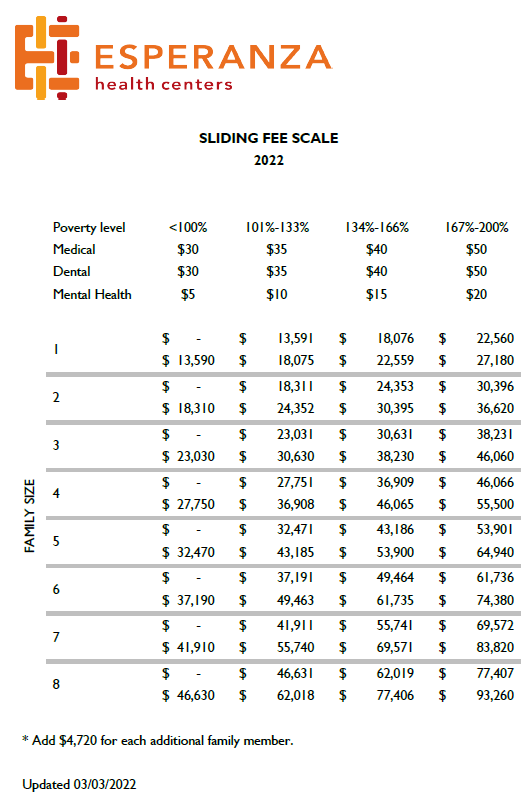 Pharmacy Discount Program 
Esperanza patients may be eligible for a discount on their prescriptions through the 340B Drug Discount Program. Eligibility rules and participating pharmacies. 
Health Insurance Help
We can help you find a health insurance plan that meets your needs and budget. We can answer questions about Medicare, Medicaid, and private insurance. Learn more here.
Benefits Counseling
We can help you and your family apply for SNAP, the supplemental nutrition assistance program, also known as the LINK card. Learn more here.
Health Insurance at Esperanza
We accept most health insurance plans, including all Medicaid plans and many Medicare plans. Before making an appointment with us, we recommend contacting your insurance to find out whether or not Esperanza is in your network. This helps to avoid receiving a bill in the mail for out-of-network expenses. If you have additional questions, please call us at (773) 584-6200.