With the coronavirus outbreak changing the way we access health care, Esperanza wants to offer our patients an easy and safer way of connecting with us. Fortunately, telehealth services at Esperanza are a great way for you to receive the quality care you need from the providers you trust without having to leave your home. If you have a phone, a smartphone or a computer, you might be able to get convenient telehealth services directly through Esperanza!
What is telehealth?
Telehealth is an easy and convenient way for you to speak directly with your provider over the phone or via video chat about your health needs. Think about it as visit to the doctor without having to leave your home, take the bus, find parking or spend time in our clinic waiting room!
What do I need to get telehealth services from Esperanza?
You don't need to be a computer genius with fancy equipment to get telehealth services. If you have a phone, a smart phone, a computer or a tablet, you might already be eligible for telehealth! A device with a camera is always preferable, but we'll work with the equipment you have. Remember, our provider will decide which kind of appointment is best for you given your health needs and will let you know in advance. For more information on connecting to your telehealth visit, click here.
Are telehealth services available to everyone?
Esperanza is currently offering telehealth services for both your clinical and/or behavioral health needs. Existing and new patients are eligible. Please note that, in some circumstances, your provider may decide that it is preferable to see you in person. If that's the case, our team will work to find you an in-person appointment that's best for you.
I have an appointment scheduled for next week. What should I do?
If you have an appointment coming up with us, our team is already looking into ways to serve you better. This may include rescheduling your visit, asking you to come in for an in-person appointment or giving you the convenience of a telehealth visit. Our team will contact you one to two days before your scheduled appointment to discuss your options and see if telehealth is appropriate for you.
How much does a telehealth visit cost?
Telehealth visits are billed to your insurer or you the same way as a regular visit to Esperanza. You're getting the same award-winning care, time and attention with your provider during a telehealth visit as you would with an in-person visit.

If you have any questions about telehealth services at Esperanza, don't hesitate to contact your care team at (773) 584-6200!
Preparing for your telehealth visit
Click on the image below for step by step instructions on how to prepare for your telehealth visit with Esperanza.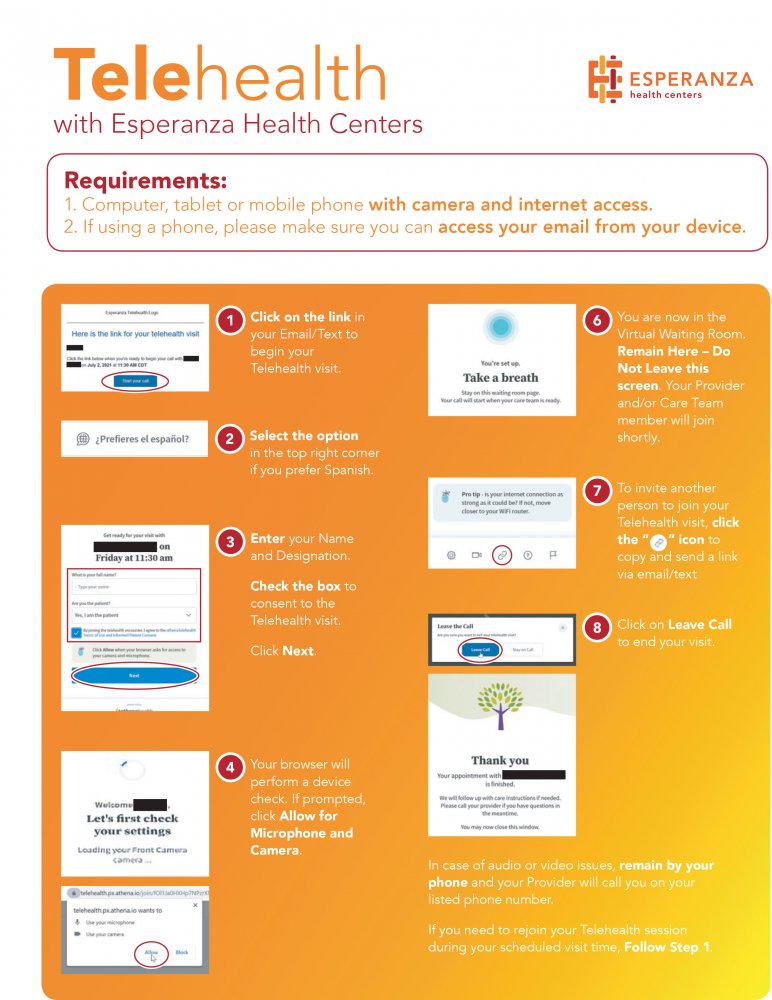 Link to English Telehealth flyer